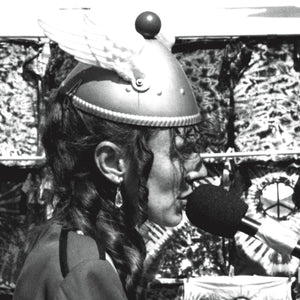 Space Lady, The "Greatest Hits" LP
Mississippi
Regular price
$ 17.99
$ 0.00
Unit price
per
A classic album by one of our favorite artists and dear friends, The Space Lady. Warm and heart-rending Casio ballads from the far reaches of the solar system.
The Space Lady began her odyssey on the streets of San Francisco in the late 70s, playing versions of contemporary pop music on accordion and dressed flamboyantly, transmitting messages of peace and harmony.
Following the theft of her accordion, The Space Lady invested in a then-new Casio keyboard, birthing an otherworldly new dimension to popular song that has captured the imagination of the world. Of her early street sets, only one recording was made, self-released originally on cassette and then transferred to a home-made CD.
'The Space Lady's Greatest Hits' features the best of these recordings - mostly covers but with some originals and features archival photographs and liner notes from The Space Lady herself. "Greatest Hits" contains The Space Lady's personal favourites; her haunting take on The Electric Prunes' "I Had Too Much To Dream (Last Night)," a frantic "Ballroom Blitz" amidst other reconstructed pop music. Included are also 4 originals. Old School 'tip on' cover and fold out liners with poster for framing on one side and notes on the other.
---
Share this Product
---