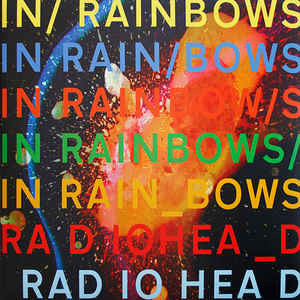 Radiohead "In Rainbows" LP
XL
Regular price
$ 26.99
$ 0.00
Unit price
per
Variously hailed as "the best band in the world" (
Q Magazine
), "Rock's best live band" (
Rolling Stone
) and No. 1 of 
Spin
's 40 Most Influential Artists, Radiohead has arguably become the most acclaimed and adventurous force in modern music.
The band had worked on 
In Rainbows
 for more than two years, beginning in early 2005. In between recording, the band toured Europe and North America for three months in mid-2006. The announcement of details about the album led to media attention centered around the band's decision to first release the album online as a digital download for which fans could decide the price they paid.
The album release marks the band's first album after the end of their contract with EMI and the end of the longest gap between studio albums in their career. Upon its initial release as a digital download, the album earned widespread critical acclaim, though the commercial success of the web-released album is still unclear. However, 
In Rainbows
 entered the U.K. Album Chart at number one upon its retail release, and also topped the U.S. 
Billboard
 200 chart.
The album features many of the songs showcased on Radiohead's 2006 tour, including "15 Step," "Bodysnatchers," "All I Need" and "Videotape." "Arpeggi" and "Open Pick," songs debuted during the band's 2006 tour, also made their way onto the album, but were retitled "Weird Fishes/Arpeggi" and "Jigsaw Falling into Place," respectively. The song "Nude," which premiered live during the 
OK Computer
 world tour was finally released on 
In Rainbows
, albeit with a different arrangement. Some media outlets reported that a song named "Reckoner" which had originally premiered live in 2001 would finally be released on 
In Rainbows
, but the 
In Rainbows
 track titled "Reckoner" is quite different; Thom Yorke and Jonny Greenwood worked on extra material for the song and subsequently abandoned the original material.
Yorke, in reference to the lyrical content on the album, has said "It's about that anonymous fear thing, sitting in traffic, thinking, 'I'm sure I'm supposed to be doing something else'... it's similar to 
OK Computer
 in a way. It's much more terrifying. But 
OK Computer
 was terrifying too — some of the lyrics were."
---
Share this Product
---