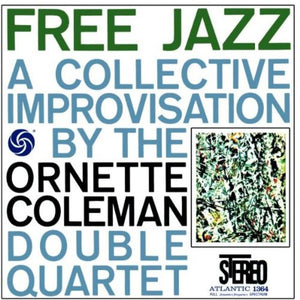 Ornette Coleman "Free Jazz" LP
Ermitage
Regular price
$ 20.99
$ 0.00
Unit price
per
Coleman had already fired a musical warning shot of sorts earlier in 1961, when he released his album entitled This Is Our Music, and it's in no way hyperbolic to say that the music he was making at the time was out of step with the jazz movement of the day in the best possible way. Free Jazz, however, was something else entirely, with Coleman performing with a double quartet, one in each stereo channel.

You want to hear an album that'll blow your mind? You got one right here, baby.

On one side were the horns, the other side the rhythm, with the overall lineup as follows: Coleman on alto sax, Ed Blackwell (drums), Don Cherry (pocket trumpet), Eric Dolphy (bass clarinet), Charlie Haden (bass), Billy Higgins (drums), Freddie Hubbard (trumpet), and Scott LaFaro (bass). To that musical collective, add production by Nesuhi Ertegun and engineering by Tom Dowd, and you can only imagine how amazing it sounds.
---
Share this Product
---