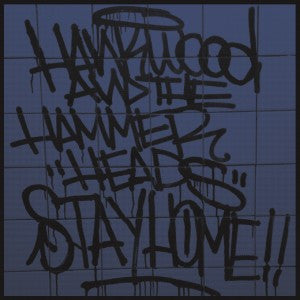 Hank Wood and the Hammerheads "Stay Home" LP
La Vida Es Un Mus
Regular price
$ 14.50
$ 0.00
Unit price
per
Two years ago HANK WOOD asked us to go home, they were young and pissed off and they wrote what in my humble opinion was hands down the best album of that year. In the two years since 2012 HANK WOOD AND THE HAMMERHEADS have been playing sporadically, gaining fans with every show and selling out show after show in their native NYC. Their irreverent live show is incendiary showing a really angry front man backed by a volatile band playing the nastiest keyboard  garage punk you can imagine. Punk without the outfit. All songs no filler. Riffs. They have it. Somehow they managed to spend enough time in the same room to write a perfect follow up to "Go Home".

 "Stay Home" sees the band at their peak, they have matured enough to write a masterpiece of dual-drumming-keyboard-driven punk. Their sound is still raw and unpolished, the drummer and percussionist hit hard and the guitar plays a superb mix of surf and classic first wave NYC Punk. I could list all the qualities of this record and praise this band for pages but they had that je ne sais quoi which is impossible to explain. Do yourself a favour, listen to their album and you'll understand. It is free online after all. Or if you feel like it buy a physical copy as there is so much hard work behind this monster.

The European press of "Stay Home" comes in blue and black sleeve, including a 2 colour poster, risographed lyric sheet and hand stamped center label. A beautiful package for an otherwise nasty punk record.
---
Share this Product
---