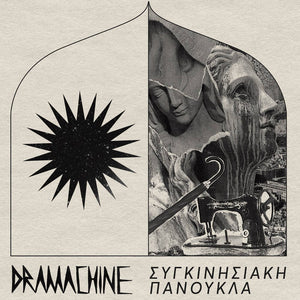 Dramachine "ΣΥΓΚΙΝΗΣΙΑΚΗ ΠΑΝΟΥΚΛΑ" LP
Erste Theke Tontraeger
Regular price
$ 21.99
$ 0.00
Unit price
per
A punk project involving analogue synths, a guitar, a bass, pedals, vocals, a drum-machine, nagging, gossip and drama- telling brought to you by 3 mortals trying to survive in a world of snake-eating bats, ex boyfriends, extreme weather conditions, self-improvement freaks and low wages.


A fresh combination of synth-punk and post -punk / experimental music. Taking the drum machine beat arrangements and synth-heavy patterns of wave/ post-punk, but using those as the base coat in a sound that's much more informed by experimental and avant-garde music.

This record is so much more than a genre exercise or a deft melding of influences. It's an unadjusted highly experimental and totally addictive synth wave album with hints of minimal post punk. The music ranges from dirgelike chants to ethereal pop to haunting ballads. It's pure melancholic beauty from start to finish.

Even a retro, toxic synth pop that balances on a thin line between punk rock and cold-wave electronics. DRAMACHINE offer us a challenging sound, combining both electronics and instrumentation for a truly stunning musical hybrid. Just when you think you have this band figured out you get blasted with a coldwave influence!

Edgy and recklessly punky with a dash of synthpop dropped in for good measure. It's a wild ride, but somehow it hangs together and sounds like music rather than just aimless noise-making. If you crave music that both surprises and charms, I can't recommend DRAMACHINE highly enough.

So, if you want to enjoy this, don't concentrate on the any reference points, concentrate on how they push against and defy any expectations, and you'll see what a genuinely, thrillingly exciting band DRAMACHINE is.
---
Share this Product
---