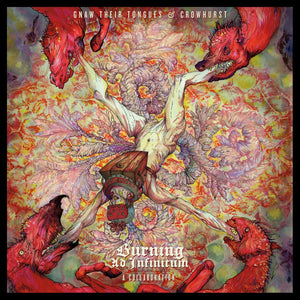 Crowhurst and Gnaw Their Tongues "Burning Ad Infinitum: A Collaboration" TAPE
Crown and Throne
Regular price
$ 8.00
$ 0.00
Unit price
per
Two entities. Two individuals. Two highly prolific musical organisms have come together to conceive an unholy offering.
Crowhurst, formed in 2011, is the project of Jay Gambit, who has created hours of material under the moniker, from noise tapes limited to dozens, to full-fledged albums backed by a complete band and utilizing colleagues and contemporaries such as members of Caïna and Ævangelist. Employing everything from drone to black metal to harsh noise wall styling, Crowhurst is, in itself, a unique body of work.
Gnaw Their Tongues, formed in 2006, is one, some would say most recognized, projects of Maurice De Jong, who plays under a half-dozen aliases in the music world. As prolific as his collaborator Gambit is, De Jong exists in a spot between black metal, industrial noise, dark ambient, and drone that few or none have ventured prior.
"Burning Ad Infinitum: A Collaboration" is a four song behemoth showcasing both musicians' talents both separate and in collaboration. Weaving harsh noise, De Jong's distressed vocal styling, and industrial rhythms, the four tracks becomes it's own unique monster; the combination of two organisms birthing what might be something entirely exclusive in life.
---
Share this Product
---