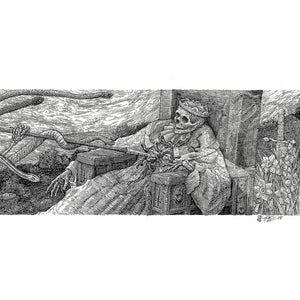 Chained to the Bottom of the Ocean "The Vestige" 2xLP
Redscroll
Regular price
$ 25.99
$ 0.00
Unit price
per
Chained to the Bottom of the Ocean is a monolithic doom metal band based out of Western Massachusetts. The Vestige is a collection of all of their previous works which are all long out of print and highly sought after. Chained has found a fan-base with their high volume live shows and presence.



The Vestige collects all the tracks from Decay and Other Hopes Against Progress, I Carry My Awareness of Defeat Like a Banner of Victory, and Tell Me What You See Vanishing and I Will Tell You Who You Are, within a tri-fold jacket double LP with new original art work by Blial Cabal. Inner panel art work by Alex Rojas – referencing the original releases' art.
Chained has toured up and down the East Coast and throughout the Mid-West playing shows alongside other titans in doom metal such as Thou, Come to Grief, & Black Pyramid.
Recorded in part by Will Killingsworth at Dead Air Studios and Chris Teti at Silver Bullet Studios.
---
Share this Product
---