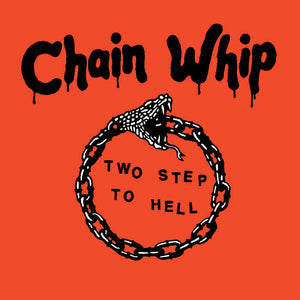 Chain Whip "To Step To Hell" LP
Neon Taste
Regular price
$ 19.99
$ 0.00
Unit price
per
Vancouver, BC hardcore. Chain Whip formed in 2018 with the sole intention of playing their favorite blend of hardcore punk. Part KBD, part California beach, part grimy Vancouver. This 12" E.P. finds the band in a faster, more furious mode with five original tracks written and recorded in the height of the 2020 Pandemic. 3 tracks are re-recorded and polished versions from their 2020 Demo (being pressed on LP RIGHT NOW by No Spirit in Germany) while the others are brand new Chain Whip recordings. The final track, Death Was Too Kind was written by Brian Goble and recorded by the Subhumans.




From the band:

"For me it started in December 2019 when a developer unveiled a 5 million dollar chandelier to hang from the Granville Street Bridge - a testament to wealth and the city's cluelessness. A smug fuck you on display for the world to ogle while people froze in sleeping bags underneath. That insult grew into something more tangible.

2020 was the year that an ever-worsening overdose epidemic was too boring for most news cycles. We watched citizens of North America get murdered in real time by pigs. White supremacists marched in the streets, encouraged by their revered grifters. Major news corporations backed both on primetime while demonizing people for just wanting to stay alive.

We sat back, depressed and tuned into the images. We wished that we could just pull the plug on the nightmare around us. We attended some demonstrations, organized some benefits. Stayed home and we drank and drugged. We tried to sleep away the reality. Just like pollution makes the sunsets richer, we danced that good beat; a dependable, monotonous, continuous death.

It hasn't quite come for us yet but we're still dancing to that tune - ever closer to the edge.

Two Step To Hell. Meaner, faster, and a bit more pissed off."
---
Share this Product
---