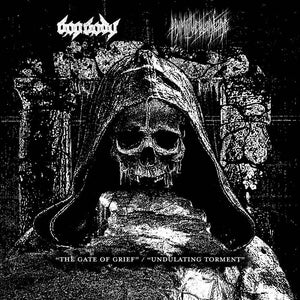 Bog Body / Primitive Warfare split LP
Stygian Black Hand
Regular price
$ 17.00
$ 0.00
Unit price
per
After their debut demo sold out nearly instantaneously on both self-released tape and MLP formats, Bog Body reemerges with their first new recorded material in almost two years. This time was not idly spent, as the brutish drum & bass duo established itself as one of New York's most reliably entertaining live acts, and embarked on a successful east coast tour with labelmates Antichrist Siege Machine and Primitive Warfare. With their side of this split, "The Gate of Grief", Bog Body breaks new ground with their signature downtuned blackened doom sound, while impressively showcasing their dynamic range. Though full of grit, the three songs that this side comprises melt together fluidly, dragging the listener back and forth between aggressive, fist-pounding, bass-driven riffs, and stoic ambient passages, with the drums underlaying a hypnotizing meter beneath chilling synth passages. For fans of Ride for Revenge, Barathrum, Necromantia, and Urfaust.
Since thrice selling out their highly coveted eponymous demo tape and releasing a highly regarded international split EP
, Primitive Warfare continue their rapid rise to infamy with their side of this split, "Undulating Torment". It's no surprise that Primitive Warfare's hyperblasting mania drew the attention of fans worldwide, and the mindblowingly fast brand of war metal they force down the listeners throat is only sharpened further here. Most impressively, drummer Pu239's technicality is brought to the forefront right away, with some of the most inventive and standout technique in the contemporary war metal underground. But guitarist U235 stays right on his heels, with wristbreaking riffs that prove that this two-piece is locked in and ready to destroy. There is little time to breathe as Primitive Warfare barrel through four frenzied blast-fests, with a mere two-count's warning, if any at all, before the listener is bombarded with sonic artillery and dueling high/low register vocal commands. For fans of Revenge, Conqueror, Caveman Cult, and Black Witchery.
---
Share this Product
---