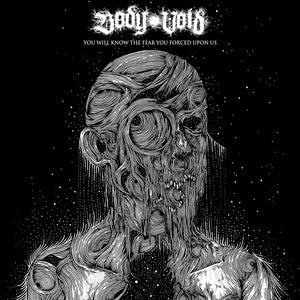 Body Void "You Will Know The Fear You Forced Upon Us" LP
Crown and Throne
Regular price
$ 15.00
$ 0.00
Unit price
per
After the release of their debut full length "I Live Inside a Burning House" and the accompanying tour throughout the United States, San Francisco's Body Void returned yet again to the watchful eyes (and ears) of Greg Wilkinson at Earhammer Studios to lay down two new tracks that has become "You Will Know The Fear You Forced Upon Us".
Taking current events and the social climate that permeates society we exist in, Body Void has exhumed their outlook on the state of marginalized people living in the world today. The fear of not knowing if today will be your last day to draw breath without the fear of violence against you, or the fear that a door knock will lead to the separation of your family and the life that you are accustomed to day-to-day.
Harnessing those feelings from those around them, the band has crafted their response to the current surroundings in the form of two new doom/drone opuses that continue along the path of treaded work, but refined to best project the anger and rage that haunts anyone not of the status quo.
---
Share this Product
---