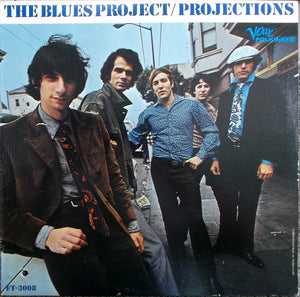 Blues Project "Projections" LP
Verve
Regular price
$ 17.99
$ 0.00
Unit price
per
The Blues Project was one of the most innovative and influential bands of the 1960s. Rising from the vibrant Greenwich Village music scene, the New York quintet created a visionary fusion of electric blues, folk-rock, jazz and psychedelia, and delivered it with gritty, effortless expertise. Although the Blues Project didn't stay together long enough to cash in on the musical innovations that they pioneered, they served as an inspiration for subsequent generations of roots-conscious rockers, and the band's small but seminal body of work remains beloved by '60s rock aficionados.

1966's Projections is generally regarded as the Blues Project's peak as a recording unit. The only studio album to feature the band's classic lineup of keyboardist Al Kooper, guitarists Danny Kalb and Steve Katz, bassist Andy Kulberg and drummer Roy Blumenfeld, Projections is a potent manifestation of the Blues Project's eclectic approach and a persuasive showcase for the band members' varied talents.

At the time of its release, Projections became a fixture on the emerging underground FM album-rock radio format, and such enduring tracks as the garagey Kooper-sung rocker "Wake Me, Shake Me," Kalb's epic blues showcase "Two Trains Running," Katz's resonant take on Bob Lind's folk-rock standard "Cheryl's Going Home" and the spacey instrumental "Flute Thing," featuring bassist Kulberg on the title instrument.
---
Share this Product
---