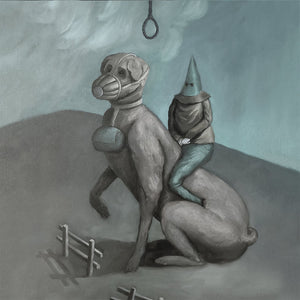 Whitehorse and The Body "S/T" LP
Tartarus
Regular price
$ 24.99
$ 0.00
Unit price
per
I love whenever the body does a collab with another doomy sludge band. It is always punishing and misanthropic. Reminiscent of the collab with Thou: fanged, bleak, and crushing.



...when Whitehorse and The Body toured Australia together, this much sought after collaboration is finally seeing a vinyl release in two different pressings with the collaboration of Sweatlung and Tartarus Records.


Whitehorse felt that these two epic tracks, having been initiated in 2013, shelved in 2014 and then revived and finalised in 2018 for the 2019 CD, were fully deserving of vinyl release, but not before a generous run through the rinse cycle, hot wash and spin cycle.

Whitehorse engaged some friends to take care of the laundry, and what came out all crisply ironed, folded and ready to put away, was this beautiful nightmare of heavy chaos.

Both LPs feature the original Whitehorse and The Body tracks on the A-side with a remix of each song on the B-side;

We have in stock the Tartarus Records pressing. Imported from the Netherlands. 

Whitehorse & The Body 12" with remixes from Andrew Nolan (Intensive Care / Column of Heaven / The Endless Blockade) manoeuvring the material through an intense hellscape & STATIQBLOOM who brings the industrial whirlpool of darkness to the nightmare..
---
Share this Product
---