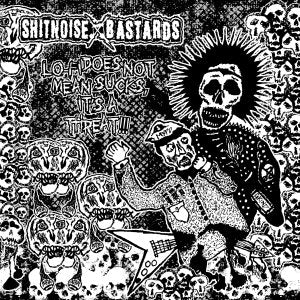 Shitnoise Bastards "Lo-Fi Does Not Mean Sucks, It's A Threat!" 7"
SPHC
Regular price
$ 5.50
$ 0.00
Unit price
per
When xSaxonx toured southeast Asia, we played with a lot of tremendous bands, but one that made a deep impression on me was Shitnoise Bastards. Three lovely and polite dudes making the most insane heinous noisecore attack, Blastmaster's lightspeed blastbeats providing the foundation of an insane noise-not-music assault on the senses. With their exciting "freestyle grindcore", they remain one of my favorite grind bands in the game.
SNB have reached Agathocles/Unholy Grave levels of prolific output, with seemingly hundreds of split tapes and CD-Rs released all over the world, with everyone from unknown Thai grindcore like Bangkok Anarchy to legends like Yacopsae to SPHC fam like Sete Star Sept and Morte Lenta. But somehow their vinyl discography is very small and limited, just two split 7"s and some lathes..
The first full 7" EP, please enjoy some of the finest grind Malaysia has to offer.
---
Share this Product
---