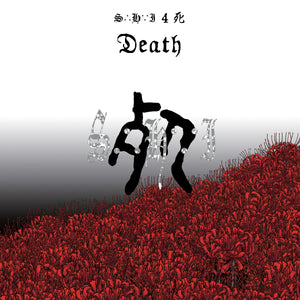 S.H.I "4 Death" LP
Relapse
Regular price
$ 19.99
$ 0.00
Unit price
per
Red vinyl. 

Originally formed by friends of a local skateboard crew in the early 80's, ZOUO quickly became torchbearers for Japanese hardcore punk at the time. The band's music was a direct reflection of their collective frustrations and takes on their culture; the lyrics detailed the bands hatred for "societal hypocrisies and existing religions." ZOUO's debut The Final Agony 7" remains a landmark release to this day - tracks such as "Sons of Satan" and "Making Love with Devil" showcase some of the most raw and evil punk to ever emerge from the underground.

Following ZOUO's releases, mastermind Cherry Nishida delved deeper into Japanese hardcore, forming DANSE MACABRE - a band solely dedicated on honing into the psychology of a serial killer.

Nishida now returns with S∴h∵i (Struggling Harsh Immortals).

Wishing to break from the genre's confines. S∴h∵i's new discordant take on rock, metal, and punk, infuses industrial elements and noise with a stark audio/visual presentation. An evolution of his prior material, S∴h∵i is directly correlated to Nishida's views on the human condition and the human minds he finds to be "unconsciously derived and mutated." For Nishida, S∴h∵i represents the struggle and search for the free spirit.
---
Share this Product
---