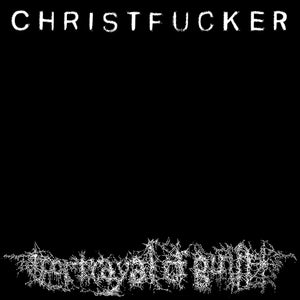 Portrayal of Guilt "Christfucker" LP
Run For Cover
Regular price
$ 21.99
$ 0.00
Unit price
per
We each have our own idea of what it means to live through a period filled with perpetual dread, a slowly burning world, and overwhelming darkness. In the case of Portrayal of Guilt, their tortuous afterlife comes with grief, loss, masochism, suffering, and pain.

On CHRISTFUCKER, their second full-length of 2021, Portrayal of Guilt plunges headfirst into unfathomable depths, creating a work of art that's powerfully unsettling. "We think of it partially in the sense of scoring a horror movie," guitarist/vocalist Matt King says. "We wanted to create an atmosphere of anxiety and fear."

The entirety of CHRISTFUCKER is set to unrelenting, nihilistic, howling soundscapes, created by King, drummer James Beveridge, and bassist, Alex Stanfield. Each track tells a story set in the darkest of settings for the listener to interpret and explore.

*Beginning with the ominous "The Sixth Circle," which features King shrieking over hypnotic guitar patterns and a thudding rhythm, the band eventually roars to life with a tyrannical blast, delving you further into its oppressive heaviness. On "Bed of Ash," the band plumb new depths while exploring the mechanistic gnashings of industrial drum and bass. On "…where the suffering never ends," churning, gruesome instrumentals provide the backdrop to a tale of brutal demise.
---
Share this Product
---