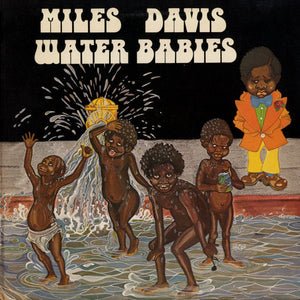 Miles Davis "Water Babies" LP
Columbia
Regular price
$ 20.99
$ 0.00
Unit price
per
180 gram pressing on color vinyl!

Just as Miles Davis remained out of the spotlight during his brief retirement from
show business (1975-81), Columbia Records had manage to release two excellent
albums in 1977 which would do extremely well on the jazz charts including this one.
Recorded between 1967 and 1968, but withheld from till it's release a decade later,
Water Babies brings us a refreshing eclectic time capsule from Miles' fresh entry to
the Jazz-Rock Movement as it features The second Miles Davis Quintet performing
on a superb set of tracks that features Herbie Hancock and Chick Corea on electric
pianos alongside The Quintet's acoustic background. Beginning on the opening title
track, the steadfast track set concludes with upbeat skill and cunning pace on other
marvelous compositions like Capricorn, Two Faced, the fascinating classic Dual Mr.
Tillman Anthony (a special ode to bandmate and drummer Tony Williams which was
brilliantly composed by Miles and Williams) and the final track Splash. So what you
will find on Water Babies is how The Miles Davis Quintet showcase the enthusiastic
writing and cool instrumental rapport that made up some of the best music by Miles'
1964-68 quintet as it basically fills in some of the gaps during this transitional period
from adventurous acoustic playing to the early electric performances that gave way
to Miles' entry into jazz-rock. With Hancock and Corea performing on electric piano
each right alongside Miles' trumpet, Ron Carter's bass and Williams' drums done in
expert timing, here is another contemporary jazz masterwork that became a crucial
part in Miles' rich spectacular music legacy.

---
Share this Product
---