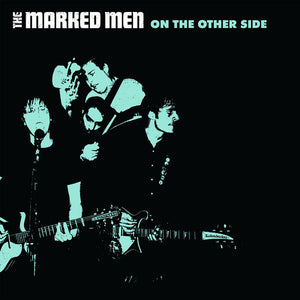 Marked Men "On The Other Side" LP
Dirtnap
Regular price
$ 18.99
$ 0.00
Unit price
per
It's hard to believe that it's been close to fifteen years since Dirtnap first released a Marked Men record. Since then, the label has done close to twenty releases by their various bands, (Marked Men, Radioactivity, High Tension Wires, Potential Johns, Mind Spiders). If you count the releases Mark Ryan and/or Jeff Burke had a hand in recording, that number goes even higher. It's a relationship that continues to this day, if there is/has been a "flagship band" for Dirtnap, Marked Men and their various offshoots are it. The band hasn't released any new material since 2009 (the last album came out in 2008.), and they probably won't, so this singles comp is as close to a new album as it's going to get. Marked Men still plays a handful of shows every year, but has no plans to release any further new material.
Their affinity for fast, choppy power chords and manic energy is well-collected here: "Like Robots" carries a propulsive floor tom x guitar line a la Buddy Holly with some harmonizing oooh's. "That Kid" is all snotty "gonna beat you up" energy, fueled by bubbling instrumentation. "Go Cry" ramps this notion up yet even more. Lead track, "She Won't Know" has all the 70s feels - leather jackets and motorbikes fueled by TaB and orange Crush. The ballad-like "The Other Side"
 

flirts with deeper feelings with a slowed-down sincerity, while "Whip Myself" leads off with a ringing guitar-lead-in and gives way to an ultimately melodic vs melancholy punk breakup song. The band stretches its legs throughout this solid closing credits collection and shows why it's one of the leaders of a sound that has never gone (or will go) out of style.
---
Share this Product
---