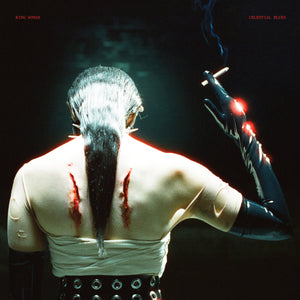 King Woman "Celestial Blues" LP
Relapse
Regular price
$ 19.99
$ 0.00
Unit price
per
Red Vinyl. 
KING WOMAN, the outfit featuring songwriter, vocalist and "tour de force of gloom and woe" (Rolling Stone) Kris Esfandiari, return with their eagerly-awaited sophomore album, Celestial Blues.

Feeling compelled to reshape the biblical archetypes that once bound her, Esfandiari has created a theatrical tale of rebellion, tragedy, and triumph — a metaphor for her own personal experiences over the years — Celestial Blues was born.

Esfandiari sets a dramatic tone for the record with "Morning Star" echoing the primeval account of Lucifer's fall from grace. Esfandiari smugly whispers: "you know it could have been you / so don't you dare judge the things that I do" — the fallen archangel in deceitful persuasion. Esfandiari is accompanied by the beastly drumming of Joseph Raygoza and Peter Arendorf's heavy-laden guitar flooding empty spaces with great fervor— masterfully stirring the listener with every sparse, emotional pluck.

KING WOMAN once again takes us to church with hardcore gospel, "Coil". "Five wounds you rape me / but I resurrect" declares Esfandiari in unhinged jubilation. Esfandiari desperately begs to be absolved in the crazed offerings of "Psychic Wound", ultimately regaining a powerful reflection of herself after a provocative and tormenting dance with the Devil.
---
Share this Product
---