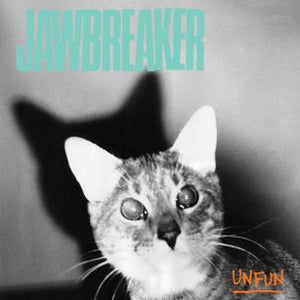 Jawbreaker "Unfun" LP
Blackball
Regular price
$ 18.99
$ 0.00
Unit price
per
Peach colored vinyl!

Blackball Records presents the 20th anniversary edition of Jawbreaker's beloved 1990 debut album Unfun--twelve groundbreaking tracks (sixteen on the CD) that captured the very inception of emo's big band and launched a galaxy of young, earnest bands and the scenes that love them.

Unfun has been remastered by John Golden from the original analog tapes; the increased sampling rate boosts some of the bottom end and mid-range. It sounds fucking awesome. The vinyl version is available for the first time since 1992, and the CD and download versions of the record include the three-song Whack & Blite EP, as well as the 7-inch mix of "Busy" as an unlisted bonus track. This reissue features restored original artwork, and all formats include additional band photos from the time of recording.

"Want" and "Fine Day" were in heavy rotation on college radio back in the day, and remained set list staples throughout Jawbreaker's run. Unfun wound up on a lot of fanzine top ten lists, and even the mainstream press took notice. Rolling Stone called it "a feast of heavy melody and righteous braying that roars along with all the spit and spirit of Husker Du's New Day Rising."
---
Share this Product
---