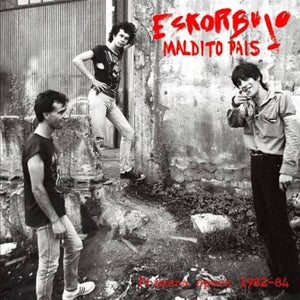 Eskorbuto "Maldito Pais" LP
Munster
Regular price
$ 22.99
$ 0.00
Unit price
per
Compilation of all the recordings by this legendary punk band prior to their LPs: the sessions for their single 
Mucha Policía
, taken for the first time in 27 years from the original tapes, which has unearthed two studio recordings unissued until now; plus rehearsals, demos and live recordings. Completely remastered. A furious, no-holds-barred sonic account of a period of immense changes for Spain and the Basque Country. The origins of the most important Spanish punk group, regarded as one of the essential bands of the genre all over the Spanish-speaking world. It was a time when the walls were teeming with socio-political proclamations, where the hammer and sickle -- alongside the illegal Ikurriña (the flag of the Basque Country) -- were the most widely-used symbols. A time of general strikes and smoky joints, where huge speakers played loud rock. In Santurtzi, on the left bank of the Nervión estuary, a unique band was born: 
Eskorbuto
. 
Iosu Expósito
 and 
Jualma Suarez
 lived in working class neighborhoods that had grown fast. In the '60s, industrialization and rampant development transformed them into urban areas without any investment in urbanism. Some elements for the alchemy led to the explosion: intelligent young guys who were nevertheless incapable of adhering to school discipline, a country in full swing towards freedom after 40 years of dictatorship. One day at the end of the '70s, they decided to start a band. The first period of Eskorbuto's life, before the damage done by the needle became noticeable, was incredibly fruitful. They soon found a rehearsal space, thanks to their first drummer ("
Gu
"), and there the first songs were born: "Enterrado Vivo," "Busco En La Basura," 'Éste Es El Porvenir," and "Mucha Policía, Poca Diversión." It was a period of line-up changes. 
Iñaki Laiseka
 played bass for them, and that role was also taken by "
Seni
" and "
Garlopa
," two precursors of "left bank" punk. Later on they found 
Paco Galán
, who also came from a similar neighborhood to theirs. Paco always was the necessary engine, the piece around which the rest revolved, which guaranteed continuity. His drumming also added an apparently chaotic element to the already unbridled guitar melodies and visionary texts, halfway between dirty realism and 
Edgar Allan Poe
's nightmares. These recordings are taken from those early times of excitement and vertigo, of journeys to Madrid and endless trips up and down the left bank looking for "someone that I've heard is selling an amp." Completely remastered from the original sources.
---
Share this Product
---