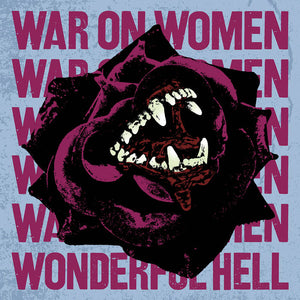 War on Women "Wonderful Hell" LP
Bridge Nine
Regular price
$ 17.99
$ 0.00
Unit price
per
is a call to action, even when every step forward feels like it's met with a landslide back. The title track, which unintentionally echoes John Lewis' notion of "good trouble" as a catalyst for change, emerged during a period when vocalist/lyricist Shawna Potter was feeling exhausted and overwhelmed by life in the Trump era. "I think it expresses something that a lot of people are feeling. Like, 'Okay, we had our moment. Now it's time to get back to work. We can't let this happen again. We can't endure another four years of this,'" she comments.


Recorded with the band's guitarist and co-founder Brooks Harlan alongside J. Robbins at his Magpie Cage Studios in February 2020 and completed in April (when in a COVID-19-free timeline the band would have been on tour with Bad Religion), Wonderful Hell is the first War On Women album to feature the band's current lineup of Potter, Harlan, bassist/vocalist Sue Werner, guitarist/vocalist Jennifer "Jenarchy" Vito, and drummer Dave Cavalier. The record opens with the explosive "Aqua Tofana," which references the notorious 17th-century "husband killer" poison, and pokes fun at misogynists who'd imagine feminist musicians as jonesing to destroy all men, rather than convert them to the cause. But as War On Women mix lines from Shellac's classic vengeance plea "Prayer to God" with their own, it's easy to imagine their brutally tongue-in-cheek barbs could get MRAs shaking behind their 4chan screen names.

Wonderful Hell 's steadfast rager "White Lies" is a takedown of systemic racism and those who complicitly watch—and even benefit from—institutions that openly favor one group over everyone else, while "This Stolen Land" confronts the gall of leaders who declare refugees and migrants "illegal" as they govern from land violently seized from Native Americans. And like War On Women's previous albums, Wonderful Hell includes plenty of songs that aim straight at the jugular of gender disparity. "Her?" lists the petty but politically lethal criticisms leveled at woman who dare to be visible in public office, while "In Your Path" takes on gender-based violence with lyrics adapted from chants introduced by Chilean grassroots feminist collective Las Tesis.
---
Share this Product
---