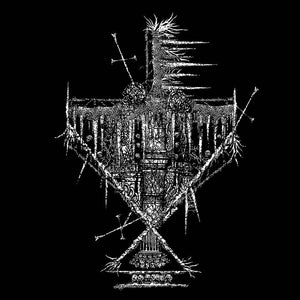 Pillars / Wallcreeper split LP
Self-Released
Regular price
$ 14.99
$ 0.00
Unit price
per
The sense of desolation and abandon that was present on "Abandoned" makes a return on Pillärs' latest release, a split with Akron, Ohio hardcore unit Wallcreeper.


Wallcreeper take a more straightforward approach to their sound, coming directly at the listener absent frills or sense of atmosphere. The difference in styles is noticeable on the split, making it an engaging listen across all seven songs.

"When we were thinking about some of the great split records we enjoy, we knew we wanted to do a split where each band was not traveling too close together, but still walking the same road," Germaniuk explains of the pairing.
The Pillärs tracks sound huge, with a really bass-forward mix that approaches an almost noise-rock aesthetic. Lipa's bass sounds gnarly but not overly bottom heavy. Germaniuk's guitars sound rad as well; metallic, tight, and driven and well suited to the speed and details of the riffs. The drums of Mike Burrows sound fantastic, with plenty of attack and just enough body to thump a bit and keep the hole thing cruising along. The vocals are buried a bit in the mix, which I think works well in this sort of music, even if Germaniuk's performance is strong enough to demand a bit more of the attention, particularly some of the melodic screams he peppers in there at times. The total here is definitely greater than the sum of its parts. Ripping!
---
Share this Product
---