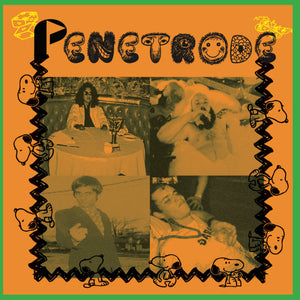 Penetrode "S/T" - TAPE
Silence is Death
Regular price
$ 7.99
$ 0.00
Unit price
per
This is the third release by Penetrode, but the first full length.
Penetrode are from Philadelphia by way of Florida, coming together to reject what has become the new norms of punk music with a fresh take on catchy aggression. The members have a deep history in underground music with members currently and formerly in such groups as Eye Flys, Drül, Knife Hits, No Qualms, Backslider, and many others.


Castillo's mixture of fed-up drawls and fierce yells is somehow refreshing in an age of by-the-numbers punk vocalists. The rhythm section is anything but regular. Bailey's bass playing shines front and center, driving these songs forward leaving no moment dull, while Smith's drumming is eccentric and tight at times and gets just sloppy enough to retain that classic punk charm.

Castillo seems to really lay themself out there lyrically, dealing with issues of love, sex, identity, inner demons, and beyond while seemingly retaining an optimism that you wouldn't normally find in these themes.

It's these relatable nuances that gives the first full-length by these underground veterans a fresh edge on today's ever-changing definitions of punk rock.
---
Share this Product
---