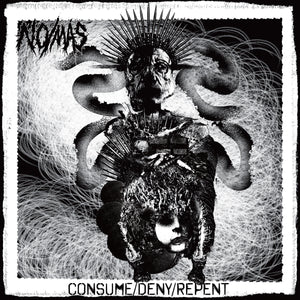 No/Mas "Consume/Deny/Repent" LP
Closed Casket Activities
Regular price
$ 25.99
$ 0.00
Unit price
per
No/Más dispenses a face-ripping combination of grindcore, metal, death, and thrash that would cut deep a decade ago or a decade from now. The Washington, D.C. group — Roger Rivadeneira [vocals], John Letzkus [guitar], Patrick Merson [bass], and Henry Everitt [drums, vocals] — engage an uncompromising sensory assault, barreling forward like a runaway freight train only bolted to the rails by deft riffing, explosive drumming, and vocal brutality.


Under the influence of everything from Slayer and Napalm Death to Wormrot, NO/MAS materialized in Washington, D.C. They made waves with their 2018 full-length debut, Raíz Del Mal, which Metal Injection christened "one of the most intense releases of the year." Meanwhile, Decibel added, "Every song on their latest album, Raíz Del Mal, is a nice little rollercoaster that tends to make its twists and turns around grind, black metal, D-beat and hardcore." In between dropping the Last Laugh EP in 2019, they graced bills with the likes of Exodus, Pig Destroyer, and many more.

Produced and Engineered by Taylor Young at The Pit Recording Studio and featuring the Artwork of Ethan McCarthy (Hell Simulation).
---
Share this Product
---