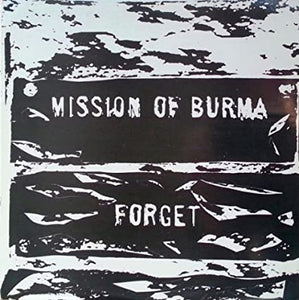 Mission of Burma "Forget" LP
Taang
Regular price
$ 18.99
$ 0.00
Unit price
per
A posthumuous collection of Mission of Burma songs that (at the time of compilation) had never appeared on any of their Ace of Hearts recordings. A very mixed bag in terms of origin and importance. Here's the breakdown:
"Anti-Aircraft Warning," "Smoldering Fuselage" and "Eyes of Men" are from a very early (8/79) 4-track home-studio demo. The first was actually a Moving Parts (Roger Miller and Clint Conley's pre-Burma band with Erik Lindgren of Birdsongs of the Mesozoic) song, and the second was written at the same time. Interesting and vital stuff that a lesser band would record proudly, but the first two were dropped from the Burma repertoire in early-mid 1980, and "Eyes of Men" was axed a year later.
"Hunt Again," "Active in the Yard," and "House Flaming" are from a live-in-the-studio demo tape for copyright, 10/82; the sound is mediocre. "Hunt" was the last song Clint wrote for Burma in its initial go-round, and maybe his best -- certainly the most adventurous and stunning musically (you may have to play it ten or fifteen times before you even understand what's going on). "Active" also post-dates VS. but is slight; the lyrics (uncredited) are by Peter Prescott. "House" is the oldest song in the band's catalog (Roger wrote it back in Michigan); it's a fine punk-pop romp.
The other six songs are from an earlier, similar copyright session, 10/80; the sound here is much better. "Forget" and "Progress" were Burma staples to the end; both later surfaced as bonus tracks on the VS. CD. The poppy "Execution" and raucous "Playland" were also staples; the former, a frequent set-opener, is particularly terrific. "Manic Incarnation" is an interesting Moving Parts song that the band used to play every few months. "Head Over Head" is one of Roger's strongest pop songs and has a devastating guitar solo; this was dropped from the live act pretty quickly, for no reason other than Roger's embarrasment over it's poppiness.
Some final notes:
-- "Playland," "Hunt Again," and "Forget" are regular parts of the reunited band's repertoire. The first two have been re-recorded for their May 2004 album on Matador.
-- "Head Over Head," "Forget" and "Playland" are all love songs, a side of the band not at all obvious from their contemporaneous releases.
-- Lead vocals for "Hunt Again" and "Smouldering Fuselage" were re-done when the album was compiled, years after the band broke up, and were thus the last Burma performances before their reunion. (In fact, Clint didn't finish the "Hunt Again" lyric or give it a title until this album was compiled; the original demo vocal apparently had some lyric-like mumbling.)
-- Compare the demo and finished versions of "Progress" to get an idea of how great "Execution" and "Hunt Again" could have been.
---
Share this Product
---