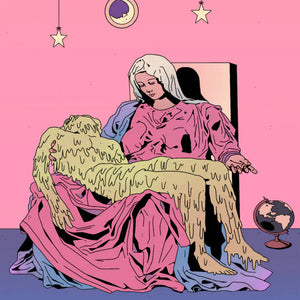 Lazy Legs "Moth Mother" LP
Tartarus
Regular price
$ 21.99
$ 0.00
Unit price
per
A blend of shoegaze, dream pop, sadcore and slowcore, Moth Mother is atmospheric, quiet, noisy, poppy and anthemic. This album effortlessly glides by, so needs and deserves multiple listens.


'We're a band that slings shoegaze, grunge, slowcore and doomgaze. We love all dogs, especially a good corg, a good aussie and a good sammy. <3 <3"

Moth Mother begins with a fiery buzz saw guitar which breaks down in gentler tones, with question and answer vocals. The well-known alternative rock trope of quiet to loud is inverted to loud to quiet and brought up to its very zenith. It's quite a way to start an album.

A calmer second track is found in "Backslide", which blends the poppy and ethereal, with slightly otherworldly hooks and fuzzy noise sounding like a totally rocked-up, wall-of-sound Urusei Yatsura. The longest track on the album, there's even a gentle reprise towards the end.

---
Share this Product
---