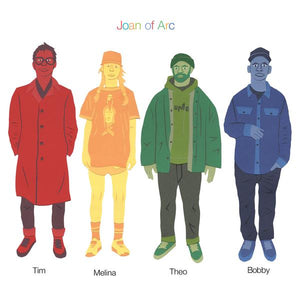 Joan of Arc "Tim Melina Theo Bobby" LP
Joyful Noise
Regular price
$ 18.99
$ 0.00
Unit price
per
Limited Sky Blue vinyl. 

Even now, if you weren't there, I think it's hard for people to understand how lucky they were to be in the room during Joan of Arc shows. Especially in the early 2000s, for me and my pals in the Midwest. The band played a show in Bowling Green, Ohio in 2000. I remember it because only one person in my crew had a car, and we weren't supposed to be making that long of a drive on what was almost certainly a school night. And so we knew, upon our leaving, that trouble would be waiting for us whenever we decided to return. But it didn't matter. Someone had told one of us that we must see this band, and so it became clear that we had to see the band.
Joan of Arc consistently occupied that space for me and for so many people I loved. Prolific – almost spilling from one album directly into another before anyone could catch their breath – but also a band someone had to see to believe. A band that, in my corner of the midwest, people would line up to see live. Their shows, a type of controlled chaos. A chaos that required a close and gentle ear, or else one might miss the delicate daggers of lyric woven into the walls of sound, the walls of slow movement.
---
Share this Product
---