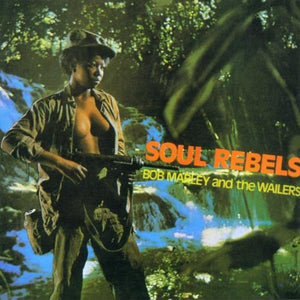 Bob Marley and the Wailers "Soul Rebels" LP
Radiation Roots
Regular price
$ 27.99
$ 0.00
Unit price
per
The Original Wailers. They were truly a legendary band who made a particular genre of music mainstream and introduced the world to 3 legendary singers, songwriters and musicians in Peter Tosh, Neville Livingston aka "Bunny Wailer" and of course, the Poet, Robert Nesta (Bob) Marley. But this, their first album released outside of Jamaica, is truly a treasure to me as it captures them at their rawest and most uncut period.

SOUL REBELS is straight up Reggae with no apologies given, it is what you would have heard had you been on the island of Jamaica in the 1960's and early 1970's and is the first album released outside of Jamaica by The Wailers. It was recorded and produced by the great producer, Lee Perry, in 1970 in Jamaica at Randy's Studio 17 in Kingston and later released by Perry's "Trojan Records." We see a young, hungry band writing songs, seeking no approval and spear heading revolution against the oppression of the day in their homeland. These sounds had never been heard before anywhere in the world outside of island nations.

This is the sound that would shock the world, assist revolutionary causes and garner the respect and praise of hundreds of millions of fans around the world and it began with these 3 men and their friends. I recommend this and the other album from this period produced by Lee Perry for Trojan titled "African Herbsman." You hear some of the songs that would later be recorded on other more polished albums in their more gritty original forms like "Soul Rebel" and "400 Years", Marley's songwriting was already taking center stage at this time.
---
Share this Product
---