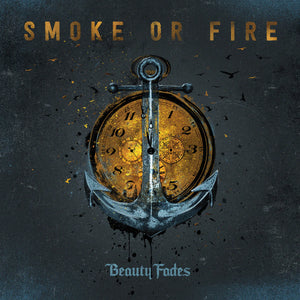 Smoke of Fire "Beauty Fades" LP
Iodine
Regular price
$ 20.99
$ 0.00
Unit price
per
Gold and Sea Blue color vinyl!

Smoke Or Fire were formed in Boston, MA during the late 90s alongside countless bands in the Boston underground scene. They delivered their unique brand of heartfelt emotional punk that included complex layered guitars, dirty vocals, and lyrics that ranged from deeply personal topics to social criticisms of war and politics. The songs often drew comparisons to bands like Avail, Hot Water Music, and Against Me! Although, Smoke Or Fire brought their own unique take on the genre with catchy melodies, and sing along choruses.

The band released their debut EP "Worker's Union" on Iodine Recordings in 2002, and after several US tours, Smoke Or Fire relocated to Richmond, VA where they caught the attention of the iconic NOFX record label Fat Wreck Chords. They signed to Fat and remained through their career, releasing three full lengths: Above the City (produced by Fat Mike/NOFX), This Sinking Ship, and The Speakeasy. Smoke Or Fire was praised by music critics, and revered by fans for capturing a raw energy and a genuine approach to punk music.

Smoke Or Fire toured relentlessly over their twenty-plus year history, with numerous US and European tours, sharing the stage regularly with bands such as: Avail, Against Me!, Dillinger Four, Hot Water Music, Descendents, Anti-Flag, NOFX, Silverstein, Rise Against, Bad Religion, and The Ataris (just to name a few…).

"Beauty Fades" is a collection of out of print and unreleased tracks from Smoke Or Fire. Side A includes their debut Iodine EP "Worker's Union" which was completely remixed and remastered at New Alliance Studios in Boston, MA. Side B includes seven rare or unreleased tracks that span the history of the band, including the EP "Rises in the East" which was never released, but included a number of songs that were in the band's live set throughout their tenure. The entire collection is being pressed on vinyl for the first time ever. Complete with all new artwork and packaging.

---
Share this Product
---