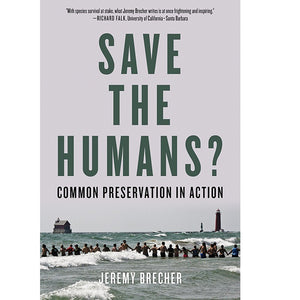 Save the Humans? Common Preservation in Action - Book
PM Press
Regular price
$ 16.99
Sale price
$ 20.00
Unit price
per
We the people of the world are creating the conditions for our own self-extermination, whether through the bang of a nuclear holocaust or the whimper of an expiring ecosphere. Today our individual self-preservation depends on common preservation—cooperation to provide for our mutual survival and well-being.
For half a century Jeremy Brecher has been studying and participating in social movements that have created new forms of common preservation. Through entertaining storytelling and personal narrative, Save the Humans? provides a unique and revealing interpretation of how social movements arise and how they change the world. Brecher traces a path that leads from the sitdown strikes on the pyramids of ancient Egypt through America's mass strikes and labor revolts to the struggle against economic globalization to today's battles against climate change.
Weaving together personal experience, scholarly research, and historical interpretation, Jeremy Brecher shows how we can construct a "human survival movement" that could "save the humans." He sums up the theme of this book: "I have seen common preservation—and it works." For those seeking an understanding of social movements and an alternative to denial and despair, there is simply no better place to look than Save the Humans?
Praise:
"This is a remarkable book: part personal story, part intellectual history told in the first person by a skilled writer and assiduous historian, part passionate but clearly and logically argued plea for pushing the potential of collective action to preserve the human race. Easy reading and full of useful and unforgettable stories. . . . A medicine against apathy and political despair much needed in the U.S. and the world today."
—Peter Marcuse, author of Cities for People, Not for Profit: Critical Urban Theory
"Over the last decades, Jeremy Brecher has known how to detect the critical issues of a period, to sort the many realities of suffering and injustice, and to emerge with a clear, short, powerful description. He does it again in this important book-it is about people: how our system devalues people and what needs to be done."
—Saskia Sassen, author of Territory, Authority, Rights
"The most important story of the past half century is that of ordinary people organizing to transform the way society looked at workers, unjust war, women, people of color, and the environment. Jeremy Brecher's life and book tell this story with a passion and comprehensiveness that make this a must-read for fans of justice."
—John Cavanagh, director of the Institute for Policy Studies and author of Development Redefined: How the Market Met Its Match and The Field Guide to the Global Economy
"Indispensable . . . A fascinating blend of political autobiography and manual for social change, giving cogent primacy to the stark goal of human preservation. With species survival at stake, what Jeremy Brecher writes is at once frightening and inspiring."
—Richard Falk, author of Palestine's Horizon: Toward a Just Peace and Power Shift: On the New Global Order
"One of America's most admired activist-scholars shines his light on the path forward, reminding us that social change is both possible and urgent."
—Mike Davis, author of City of Quartz: Excavating the Future in Los Angeles
About the Author:
Jeremy Brecher has participated in movements for nuclear disarmament, civil rights, peace, international labor rights, global economic justice, accountability for war crimes, climate protection, and many others. He is the author of fifteen books on labor and social movements, including the national best seller Strike! He has received five regional Emmy awards for his documentary film work. He is currently policy and research director for the Labor Network for Sustainability.
---
Share this Product
---