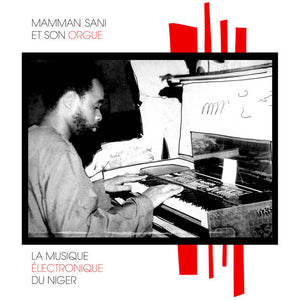 Mamman Sani "La Musique Electronique Du Niger" LP
Sahel Sounds
Regular price
$ 18.99
$ 0.00
Unit price
per
Color vinyl - white in red out of 300. 

Mamman Sani Abdoulaye, a legendary name amongst Niger's avant garde, presents a singularly unique recording of minimalist organ music from the Sahara. Dreamy and hypnotic, the sound is unlike anything coming out of West Africa before or since, closer in effect to early electronic experiments of Kraftwerk.


Mamman composes in technique that can only be called minimal, relying on the simplicity and space. It is a remarkable manipulation of sound that uses the silence to invoke the emptiness, a metaphoric desert soundscape. Unsurprisingly, his source material is folkloric Nigerien music, and many of the compositions on this record are reproductions of ancient songs brought into the modern age. Interpreting this rich and varied history of Niger's dance and song for the first time in contemporary music, Mamman electrifies the nomadic drum of the Tuaerg, the polyphonic ballads of the Woddaabe, and the pastoral hymns of the Sahelian herders. Accompanying this repertoire are a few compositions, such as Salamatu, the deeply personal love letter to an unrequited romance.

Recorded in 1981 at the National Radio in Niger, shortly after Mamman discovered an old Italian organ, the album was a spontaneous production, recorded in two takes. It was released on cassette but was a commercial failure, and only a handful were sold. The recordings, however, were a success, and became the themes to the National radio for the subsequent 30 years, securing Mamman's place in the foundation of Nigerien music.

Rediscovered in a cassette archive in Niger and digitized on a portable recorder, La Musique Électronique du Niger is now restored and remastered from the original tape material by Jessica Thompson.
---
Share this Product
---