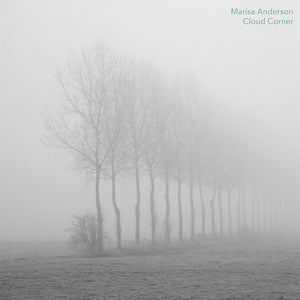 Anderson, Marisa "Cloud Corner" LP
Thrill Jockey
Regular price
$ 18.99
$ 0.00
Unit price
per
Foggy colored vinyl!

Marisa Anderson is a wanderer at heart, creatively as curious as she is proficient. On Cloud Corner, Anderson's music is boundless. Rooted in American folk music, her pieces are inspired by 20th century classical and West African guitar techniques. The results are revelatory. Written and recorded in a period of political and personal upheaval, the album was created as a refuge, an ode to stillness in an era of ceaseless noise. Marisa Anderson's Cloud Corner is an album of remarkably intimate beauty, tranquility in times of turmoil.
Anderson's composing is indelibly tied to her process of recording. As her own engineer, Anderson is able to develop her pieces while recording, shifting from song to song as inspiration strikes. After at times months of ruminating on musical and conceptual ideas, she improvises hours of material which then is often whittled into the concise, richly textured compositions. As the pieces of Cloud Corner developed, a distinct mood began to settle over the album, with long reverb tails, cleaner tones, and lightly bouncing rhythms evoking air, wind, breath, and the sky. Themes continued evolving as she recorded, as Anderson began embellishing pieces with varied instrumentation, from the warble of her Wurtlitzer keyboard to the staccato plucks of the requinto jarocho.
Anderson is able to evoke vivid visuals through her music, and Cloud Corner draws on personal experience for those images. A great example is the sorrowful "Angel's Rest," a eulogy to one of Anderson's favorite trails near her Portland home, which was devastated in 2017 by fire. "Sant Feliu de Guíxols" elicits the beauty of the coastal Spanish town. It is a quietly and consciously happy song triggered by a conversation with a fan who accused Anderson of only playing sad songs. Anderson uses a slide and incorporates microtonal elements on "Lament," a piece inspired by images of the Syrian refugee crisis. The palpable emotional weight of these pieces are all invariably tied to Anderson's capacity to create such vivid imagery with her composition, timbre and tonal choices.
Marisa Anderson's experience in a myriad playing styles and keen abilities as an improviser are perfect skills to satiate her appetite for new approaches to composing. The backbone for her music is her undeniable mastery of North American traditions of country, folk, and blues. Cloud Corner sees Anderson using those skills in new forms from the Classical canon such as the fugue and ostinato. Traversing further still, guitar phrases on tracks like "Slow Ascent" and "Surfacing" owe a debt to Tuareg style of guitar playing. Anderson was influenced by artists she played or recorded with such as Mdou Moctar, Kildjate Moussa Albadé, and Ahmoudou Madassane. Inspiration was also drawn from unique stringed instruments Anderson utilized such as the requinto jarocho and charango, which helped flesh out the riff of "Lift."
The solo guitar work of Marisa Anderson owes its familiar tones to her awareness of history and her mastering of her instrument, yet it is completely new. Marisa Anderson filters musical history through her own personal experiences, as a traveler in life and in music. A curious and gifted player, Anderson has spent over 35 years of playing forging her singular, instantly recognizable voice. Marisa Anderson's Cloud Corner is hopeful in the face of any discord, a resplendent diverse sound sanctuary that shines, a mirror of the horizon it looks towards.
---
Share this Product
---